Just like every computer manufactor Commodore attended every big computer exhibition like "CeBit", in addition to that Commodore organized there own expos called "World Of Commodore", "World Of Amiga" or "Commodore Computer Fachaustellung".

Here you can see several invitation flyers and tickets for Commodore exhibitions in Australia and Germany.

Click each image to load a full screen copy into a new browser window.
4. Internationale Commodore Computer Fachausstellung 84, Germany
Type..........Show Advert | Country...........Germany | Year.................1984
Average Size.......202 KB | Company.........Commodore | Sender........Malte Mundt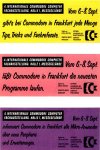 Tickets for Amiga 90, Germany
| | |
| --- | --- |
| | |
Type..........Show Advert | Country...........Germany | Year.................1991
Average Size Each..198 KB | Company.........Commodore | Sender.......Patrick Topf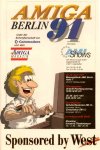 World Of Commodore 92, Germany
| | | |
| --- | --- | --- |
| | | |
Type..............Sticker | Country...........Germany | Year.................1992
Average Size.......202 KB | Company.........Commodore | Sender..........S.Zelazny
World Of Commodore 92, Australia
Type..........Show Advert | Country.........Australia | Year.................1992
Average Size Each..202 KB | Company.........Commodore | Sender.........Lance Lyon